Pacific Headwear Exclusive: Custom Caps for Everyone at Just $10 each embroidery included!
Pacific Headwear Exclusive: Custom Caps for Everyone at Just $10 each embroidery included!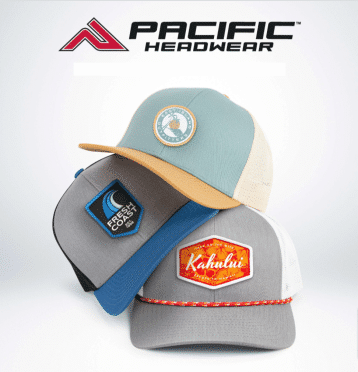 Are you ready to elevate your style and brand presence without breaking the bank? Pacific Headwear, one of the industry's leading cap manufacturers, is currently offering an extraordinary deal that's perfect for businesses, schools, sports teams, and anyone looking to make a statement. For a limited time, you can get select caps with up to 8000 stitch count embroidery included, all for an incredible $10 each. This deal is a game-changer!
The Deal You've Been Waiting For
Pacific Headwear understands the importance of making a lasting impression through custom headwear. They've made it easy for you to achieve this without the high costs. Here are the details of this exceptional offer:
What: Select caps from Pacific Headwear
Price: Only $10 each, with up to 8000 stitch count embroidery included
Set-up Charge: A one-time $50 set-up charge
Sales Tax: Local sales tax may apply
Shipping: Free Ground Shipping direct from manufacturer.
Production Time: 10 working days
Offer Expires: November 15, 2024
Minimum Order: 48 pieces
Cap Styles Available
Pacific Headwear's selection of caps included in this offer is diverse. You can choose from style numbers:
Who Can Benefit from This Offer?
This amazing offer caters to a wide range of customers and purposes:
**1. Businesses:
For businesses, custom caps are a fantastic way to enhance brand visibility. Whether you're a small startup looking to create a unique identity or an established company looking for promotional items, Pacific Headwear's offer can help you make a statement. Imagine your employees or customers wearing high-quality, embroidered caps with your logo and message.
**2. Schools:
Schools can use this offer to create a sense of unity and identity among students. Custom caps are perfect for sports teams, clubs, or as merchandise for students and alumni. It's an excellent way to show school spirit and pride.
**3. Sports Teams:
From little league to professional sports, embroidered caps are a must. Not only do they provide protection from the sun, but they also create a sense of unity among team members and fans. With Pacific Headwear's special deal, sports teams can look their best without breaking the budget.
**4. Events and Organizations:
Do you have a special event or organization that could benefit from personalized caps? Whether it's a charity run, a local community group, or a non-profit, embroidered caps can serve as both functional and promotional items. They can also be sold as merchandise to raise funds for your cause.
With these options, you're sure to find the perfect cap that matches your brand's style and message.
Act Fast, Seize the Deal
This incredible offer from Pacific Headwear is available for a limited time only. Don't miss out on the opportunity to get custom caps with high-quality embroidery for just $10 each. Whether you're a business looking to make an impression, a school fostering unity, a sports team aiming to stand out, or an event/organization in need of promotion, this deal is for you.
To check available colors and place your order, contact us:
Hurry, this offer expires on November 15, 2024!
Reach out to Pacific Headwear today and make the most of this fantastic opportunity. Your custom caps are just a click or a call away.